Trekking
Nebrodi under the snow in February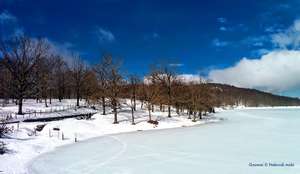 This period of the year is particularly affected by snowfall. It can be a nice opportunity to take a walk with snowshoes. A winter sport quite practiced in recent years and in the Nebrodi.

In January or February, after an intense night of rain and icy wind, it happens that in the morning the mountain is covered with snow. It is a phenomenon that makes everyone happy, because in Sicily the snow is not always present in winter.

At this moment it continues to snow intensely, on the high area of ​​the Nebrodi mountains and the Maullazzo lake is frozen.

The whitewashed season in the magical woods of the Nebrodi some associations organize excursions with snowshoes. The snowshoe walk provided almost always by local organizations, provide off-piste trails in the woods among the pristine snow. You follow the snowy path to reach the Lake Maulazzo that almost always in this period is frozen as in the picture. Snow hiking is always suitable for everyone.