Troina is a town, it is located in the Nebrodi Park, comune and Latin Catholic titular see in the province of Enna, Sicily, Italy. 
If you want to sleep in Troina today you can search through Google "Hotel Troina" you can find a list of hotels that use online booking systems. I advise you to look also around Troina, there are several small villages that also offer them a solution to stay. It is also interesting to find a farm, where you can also eat good Italian food. The typical Sicilian food is very good and you will surely be able to appreciate it.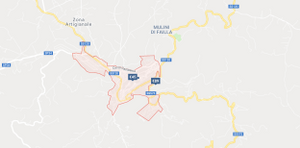 In Airbnb today we found these offers to sleep in Troina.

Altro su Troina:
In 1082 a Diocese of Troina (Curiate Italian) / Troyna (Latin) / Troynien(sis) (Latin adjective) was established, on Sicilian territories split off from former Diocese of Messina, former Diocese of Lipari, former Diocese of Taormina and former Diocese of Tindari. the city, among the first to be liberated from the Arab Muslim rule by the Normans, was chosen as episcopal see. Tradition holds that after a mass celebrated by Pope Urban II to implore Norman aid had been exhausted, their Kings of Sicily were granted the special privilege (termed 'Apostolic legation') to appoint the Sicilian bishops freely, without Rome's approval. [Wikipedia]
Its first and only bishop was Roberto (1082 – 1098), a cousin of 'great count' Ruggero (Roger) I 'Bosso', who built from 1065 to 1078 the cathedral Maria Santissima Assunta, dedicated to the Assumption of Mary. [Wikipedia]
In 1098, as the Norman power declined on Sicily, it was suppressed to (re)establish a now great Diocese of Messina (Metropolitan Archdiocese from 1166), to which the high-born incumbent was transferred as Bishop of Messina (1098 – death 1109). [Wikipedia]
In the 18th century, the ruling patrician families and local clergy attempted to have the episcopal status restored, but lost out to regional rival Nicosia, Sicily. [Wikipedia]